Huawei to showcase advanced solutions in Cyprus
Huawei Cyprus on Tuesday announced that the European tour of the Huawei 5G Roadshow 2022 will also include Cyprus, with this year's event being centred around how 5G networks can be applied in a private capacity. This will be the second consecutive year in which Huawei's roadshow will be visiting Cyprus. The event, which is titled '5G Mobile Private Networks', will take place on December 5-8 on the University of Cyprus' campus between 9am and 5pm, allowing visitors to discover and familiarise themselves with Huawei's innovative products and services.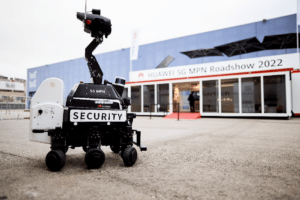 The centrepiece of the event involves Huawei's demo truck, which contains the aforementioned technological solutions. "The introduction of 5G has brought a new era in telecommunications and the dynamics of fifth generation networks can transform many more industries," the company said in a statement.
"The advantages of 5G, such as high transmission speeds, ultra-fast response times and high reliability, can be exploited by organisations operating in various sectors by deploying a 5G mobile private network," the statement added, noting that by deploying a 5G Mobile Private Network, an organisation can operate more efficiently and more securely. What is more, the company said that 5G Mobile Private Networks are being installed at a very fast pace in Europe and within the next 5 years they are expected to continue experiencing substantial growth. Huawei participates in a large number of such projects, with the 5G Roadshow 2022 allowing it to showcase the company's technologies and solutions in Cyprus.
Visitors to the 5G Roadshow 2022 will be able to see first-hand how a 5G Mobile Private Network can transform the way industries operate, as Huawei's demo truck is equipped with its own 5G Mobile Private Network. In addition, real-world examples of 5G Mobile Private Networks applications in different industries will be presented at the event site. According to the company, the small-scale use cases demonstrated as part of the Huawei 5G Roadshow 2022 are derived from the manufacturing, chemical, shipping and cement industries.
5G mobile private networks are used in the aforementioned fields to perform quality control using artificial intelligence, remote machine control, as well as logistics automation. "Augmented reality is another technology that is being adopted at a rapid pace," the company said, noting that "by combining Augmented Reality with a mobile private 5G network, it enables seamless collaboration from anywhere, thus eliminating distances within an organisation". The company explained that the unique technological advantages of 5G mobile private networks will have a crucial role to play in the digitisation of Europe's industries.
"The aim of Huawei, one of the leading providers of Information and Communication Technologies worldwide, is to contribute to the acceleration of the digitisation of European industries through the use of fifth generation networks," Huawei said.
"This year's Huawei 5G Roadshow themed "Mobile Private Network" comes to highlight the power of 5G to both the industry and the Cypriot public," it concluded.