Inadequate training, crumbling runways among issues at some smaller Alberta airports: Transport Canada
Breadcrumb Trail Links
Inadequate training and crumbling runways were among the issues found at some small Alberta airports, show Transport Canada documents Publishing date:
Sep 24, 2022
o
42 minutes ago
o
2 minute read
o
Join the conversation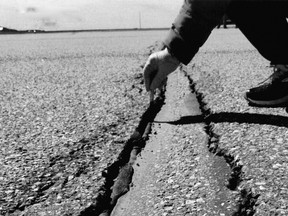 A runway at Lloydminster Airport in May of 2019.
Photo by Transport Canada
Article content
Inadequate emergency training, crumbling runways and obstructed safety lights were among the issues inspectors found at some of Alberta's smaller airports, show recent Transport Canada documents.
Advertisement 2
Story continues below This advertisement has not loaded yet, but your article continues below.
Article content
The inspections were conducted throughout 2019 and 2020.
Copies of the subsequent reports were acquired by Postmedia through an access to information request.
Sign up to receive daily headline news from the Calgary Herald, a division of Postmedia Network Inc.
By clicking on the sign up button you consent to receive the above newsletter from Postmedia Network Inc. You may unsubscribe any time by clicking on the unsubscribe link at the bottom of our emails. Postmedia Network Inc. | 365 Bloor Street East, Toronto, Ontario, M4W 3L4 | 416-383-2300
Thanks for signing up!
A welcome email is on its way.
If you don't see it, please check your junk folder.
The next issue of Calgary Herald Headline News will soon be in your inbox.
We encountered an issue signing you up. Please try again
Article content
When inspectors showed up to Lloydminster Airport they found a runway that had buckled in some places and was crumbling in others, creating a safety risk. "A Transport Canada inspection of Runway 08/26 revealed runway degradation and surface irregularities that may adversely affect the take-off or landing of an airplane by causing excessive bouncing, pitching, vibration or other difficulties in the control of the airplane," an inspector's report reads.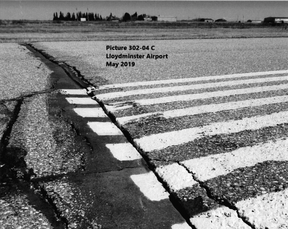 A runway at Alberta's Lloydminster airport in May 2019.
Photo by Transport Canada
Other issues around the runway became apparent as well with inspectors finding the shoulder of the strip was not flush with the runway as required.
Advertisement 3
Story continues below
This advertisement has not loaded yet, but your article continues below.
Article content
Runway lights -- designed to help guide pilots towards the landing area -- were also found to be "not mounted sufficiently low to the ground," said the report.
'Obscured in snow'
Lighting was also an issue at Okotoks Air Ranch Airport when inspectors visited there in February 2020. They found some of the airport's blue taxiway lights were broken. And, some wing bar lights -- used to illuminate the start of the runway where it's safe to land -- were misaligned and "not in the direction of approach to the runway."
Snow removal was also an issue, with some safety lights "partially or fully obstructed" after being buried in snow. A runway exit sign was observed to be "completely obscured in snow."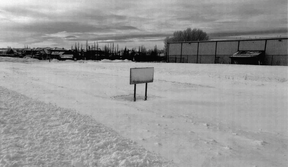 A runway sign is completely obscured by snow at Okotoks Air Ranch Airport in February 2020.
Photo by Transport Canada
Inspectors also noted snowbanks and windrows in various locations along the runway strip as well as a large tarp "lying in the snow within the runway strip surface, presenting a foreign object damage risk."
Advertisement 4
Story continues below This advertisement has not loaded yet, but your article continues below.
Article content
'Would not know what to do'
Okotoks was one of several airports where inspectors identified issues around training, including for emergency situations.
The individual inspectors spoke with at an earlier visit in December 2019 "was not qualified to teach human and organizational factors." "Through interviews and sampling it was discovered that, at the time of inspection, there was no personnel on site that could demonstrate adequate supervision and control to manage any emergency at the airport," the report states. "When asked about energy response procedures ... airport manager, or designate, indicated that he had never seen the airport emergency response plan and would not know what to do in the event of an emergency."
Advertisement 5
Story continues below
This advertisement has not loaded yet, but your article continues below.
Article content
A November 2019 inspection of the Grande Prairie Airport found that officials there couldn't say for sure if certain types of training had taken place. At Rainbow Lake Airport, inspectors were concerned with staff failing to warn passengers to not feed wildlife, potentially encouraging animals to come too close to the facility.
"The Rainbow Lake Airport did not advertise to the users of the airport the policy that prohibits the feeding of wildlife and the exposure of food wastes." The documents also include inspection records for airports in Fort McMurray, Fort Chipewyan and Parkland. The province's two largest airports -- Edmonton International and Calgary International -- were not included.
Twitter @ByMatthewBlack
Share this article in your social network
Advertisement 1
Story continues below
This advertisement has not loaded yet, but your article continues below.
Comments
Postmedia is committed to maintaining a lively but civil forum for discussion and encourage all readers to share their views on our articles. Comments may take up to an hour for moderation before appearing on the site. We ask you to keep your comments relevant and respectful.
We have enabled email notifications--you will now receive an email if you receive a reply to your comment, there is an update to a comment thread you follow or if a user you follow comments.
Visit our Community Guidelines for more information and details on how to adjust your email settings.