Here comes tomorrow: carbon neutral trucking technology
By: Steve Brooks
Date: 28.09.2022
---
There's a revolution happening in automotive energy sources and at Germany's massive IAA commercial vehicle show in Hanover this September, two global giants will showcase just how far they've come in making electric power, fuel cells and alternative fuels a commercial and operational reality. But that doesn't mean diesel is dead. At least, not for many years yet.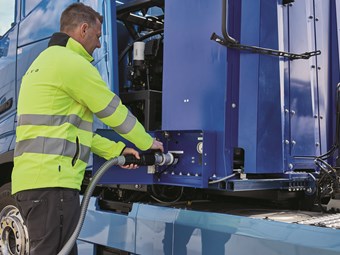 The global trucking industry is preparing for a transition to fossil-free fuels.
Have no doubt, the automotive world is undergoing a change of epochal proportion, from motorbikes to massive mining machines and everything in between.
And it's happening right now, faster and more certain than perhaps any period in industrial history.
Driving the change are climatic geopolitical events. Delivering the change is climactic corporate resolve.
In both cases, the change is evident and inevitable, and accelerating at a pace few could have imagined just a decade or so earlier.
The ultimate goal is carbon neutrality and in its most fundamental form, that means no more fossil fuel. No oil, no gas, no coal.
Of course, such earth-shaking change after much more than a century of total reliance on Earth's extracts won't come without inherent criticism or significant cost, especially in commercial enterprises such as freight haulage.
But change is coming, absolutely, and 20 years from now it's entirely likely that only trucking's old timers with ever more muddled memories will recall the days when there were things like manual gearboxes, drum brakes, paper log books and the need to pour vast volumes of diesel into fuel tanks.
Sure, there's little doubt diesel will be still in use for some work for at least the next few decades, particularly in countries like Australia where long, heavy hauls across thinly inhabited regions are likely to remain part of the national landscape for at least another generation or two. However, in the great majority of applications involving commercial vehicles of one sort or another, working in shorthaul roles in urban or regional areas, the energy for road freight will almost certainly be derived from plugging in rather than pouring in.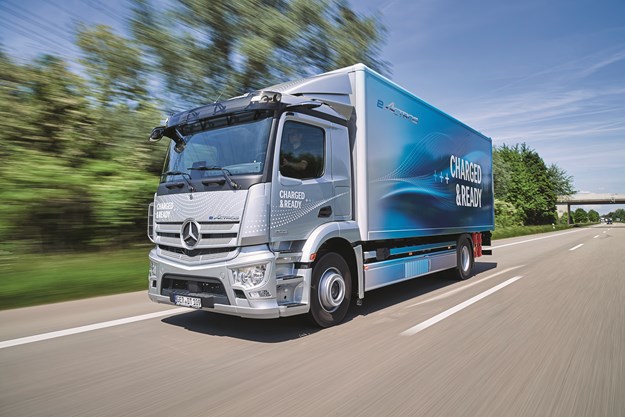 The battery-electric eActros has been on sale in Europe since late 2021 and will soon start trials in Australia and New Zealand. Meantime, at Germany's IAA commercial vehicle show in Hanover this September, an eActros Longhaul version will make its first public appearance
It is, quite simply, indicative of a global automotive industry striding through a technological revolution of immense magnitude and what we're witnessing right now is the evolution of that revolution.
Step by step. Piece by piece. Bit by bit.
And yes, there have been, and will continue to be, mistakes and missteps along the way, complete with grievances and complaints of every sway, but the path is now set.
Equally, the great drivers of this technological advance in the commercial vehicle world are the giants of the business, Daimler's Mercedes-Benz and Volvo Group, individually and collectively creating the platform for a tectonic shift in the power sources that move freight across Europe, North America, Japan and, eventually, everywhere.
Perhaps most vital and indicative in this corporate camaraderie between Daimler and Volvo is the 2021 formation of a company called 'Cellcentric' which, as the name implies, specialises in the manufacture and supply of fuel cell systems. Make no mistake, this is high end technology that will ultimately play an intrinsic role in meeting road transport's environmental responsibilities. Moreover, by combining their respective strengths, the two powerhouses are effectively easing the technological and economic burden of such immense change.
---
RELATED ARTICLE: Scania announces plans for electric vehicle future.
---
By its own definition, Cellcentric is "a 50:50 joint venture of Daimler Truck and Volvo Group to take advantage of the expertise and extensive experience from several decades of development work on fuel cells within its predecessor companies.
Cellcentric's ambition is to become a leading global manufacturer of fuel cells, and thus help the world take a major step towards climate-neutral and sustainable transportation by 2050."
To achieve its lofty goals, Cellcentric's primary focus is to develop, produce and commercialise fuel cell systems for use in heavy-duty trucks and, according to a recent Volvo statement, "build one of Europe's largest series production facilities for fuel cells".
Already, several hundred highly specialised technicians and engineers are working at facilities in Germany and Canada, with the company stating: "Around 700 patents have been issued, underlining the leading role played by the company in terms of technological development."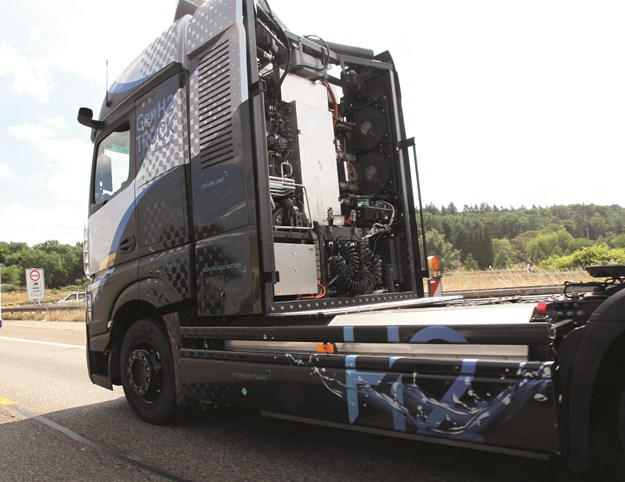 Daimler Trucks' hydrogen fuel cell prototype snapped recently in Germany. Trials are well advanced, with production planned for the second half of this decade
There is, of course, so much of this story still to be explored but, rest assured, with many billions already committed to being invested by corporate super-powers, the race to the future is moving at a frenetic pace.
Critics and doomsayers are plentiful but, again, nothing will stop the tide of technological advance now pulsing through every element of truck development, performance and efficiency.
From all indicators, this year's Hanover truck show will reveal the tip of the technological iceberg.
Home turf
After several years of COVID-induced hiatus, the 2022 IAA commercial vehicle show in Hanover, Germany, will be a stellar showcase of how dedicated and determined the trucking world's global powerhouses are in development of battery-electric and fuel cell technologies, and specifically the close links they have forged to bring fuel cells to commercial reality.
Be assured, though, Mercedes-Benz and Volvo will not be alone in featuring a cleaner, greener future at Hanover. But then, nor will developments in diesel-powered trucks and their significant impact on Australian interests be completely on the backburner.
Nonetheless, it is no coincidence that, on the same day in June this year, the German and Swedish entities issued press releases outlining their aspirations and goals for carbon neutrality in future products, with Mercedes-Benz announcing that it will unveil its eActros LongHaul electric truck at Hanover.
Meantime, taking a further step up the technological ladder, Volvo Trucks announced that it has started testing vehicles with fuel cells powered by hydrogen, with a driving range
of up to 1,000km.
But the Hanover show is, of course, slap in Mercedes-Benz heartland and, typically, the three-pointed star makes a sharp point of being the biggest and brightest exhibitor.
This year, however, the message is all about alternative power sources and, appropriately, the eActros LongHaul will be Mercedes-Benz's show highlight.
According to Benz's press release: "The eActros LongHaul to be shown at IAA provides a preview of the design theme of the series-production vehicle."
In effect, an indication of what to expect when the truck actually goes into production, planned for 2024.
"The tractor unit is also part of the eActros LongHaul test fleet," Mercedes-Benz continues.
"The first prototypes are already undergoing intensive testing and the eActros LongHaul will be tested on public roads this year.
In the coming year, near-production prototypes will go to customers for real-world testing.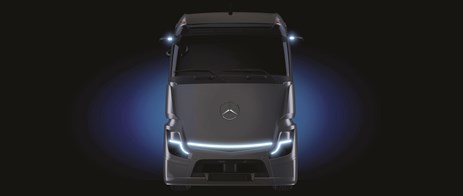 The shape of things to come? Daimler Trucks' concept design for CO2 neutral trucks. The future is racing into focus faster than we might think
"On a single battery charge the eActros LongHaul will have a range of around 500 kilometres," it's claimed, with batteries using lithium-iron phosphate cell technology that not only provides long service life and more usable energy, but the ability for batteries to be charged from 20 per cent to 80 per cent in under 30 minutes.
While the LongHaul version is still being refined and tested, Mercedes-Benz explains that "eActros for heavy-distribution [shorthaul] transport has been in series production at the Worth plant since October 2021" and was followed in July this year by the eEconic model, largely for municipal use in waste collection.
In the same press statement, Karin Radstrom, chief executive officer of Mercedes-Benz Trucks, was unequivocal: "The electrification of heavy long-distance transport is the next milestoneon our road to CO2 [carbon] neutrality."
Effectively, eActros LongHaul is just the latest in a long line of future milestones planned by the German giant and a vivid indication that battery-electric technology has matured far beyond light-duty, local delivery trucks.
Additionally, Mercedes-Benz further asserts: "Battery-electric drives have the highest efficiency among alternative drives [and] eActros LongHaul provides a high level of energy efficiency with its purely battery-electric drive."
The key, however, is the availability of charging stations and as the Mercedes-Benz press statement explains: "Daimler Truck, Traton Group [Volkswagen, MAN, Scania, Navistar] and Volvo Group have signed a binding agreement to establish a joint venture for public charging for long distance transport.
'This provides for the establishment and operation of a public high-performance charging network for battery-electric heavy-duty long distance trucks and coaches in Europe."
Accordingly, it's all part of Daimler Truck's ambition to only offer new vehicles in Europe, Japan and North America by 2039 that are CO2 neutral.
"In the second half of this decade," the Mercedes-Benz statement concludes, "the company aims to add series-production trucks with hydrogen-based fuel cell drives to its range of vehicles.
"Putting CO2 neutral transport on the road by 2050 is the ultimate goal."
But as already explained, when it comes to fuel cell technology, Daimler certainly isn't acting alone.
Cell time
Volvo doesn't pull any punches when it comes to proffering the benefits of commercial vehicles powered by a hydrogen-based fuel cell.
"Imagine a truck," the Swedish giant enthuses, "that only emits water vapor, produces its own electricity on-board and has a range of up to 1,000km.
It's possible with fuel cells powered by hydrogen, and Volvo Trucks has started to test vehicles using this new technology."
Already offering battery-electric trucks and models running on renewable fuels such as biogas, Volvo says its plans to decarbonise road transport will take a big step in the second half of this decade when fuel cell electric trucks powered by hydrogen are added to its product portfolio.
"We have been developing this technology for some years now, and it feels great to see the first trucks successfully running on the test track," says Roger Alm, president of Volvo Trucks.
"The combination of battery-electric and fuel cell electric will enable our customers to completely eliminate CO2 exhaust emissions from their trucks, no matter the transport assignments."
The fuel cell electric trucks will have an operational range comparable to many diesel trucks - up to 1,000km - and a refuelling time of less than 15 minutes, with the two fuel cells said to have the capacity to generate 300kW of electricity on-board.
Customer pilots will start in a few years from now and commercialisation is planned for the latter part of this decade.
With Volvo citing the potential to haul gross weights of 65 tonnes and more, Roger Alm asserts: "Hydrogen-powered fuel cell electric trucks will be especially suitable for long distances and heavy, energy-demanding assignments.
"They could also be an option in countries where battery charging possibilities are limited."
Incidentally, Volvo Trucks Australia openly states that (battery) electric trucks and their assembly at the company's Wacol (Qld) production facility are firmly on the local agenda.
Further down the technological track, though, Volvo explains that a fuel cell generates its own electricity from the hydrogen on-board instead of being charged from an external source. The only by-product emitted is water vapor.
Moreover, while the Swedish powerhouse reinforces the fact that fuel cells will be supplied by 'Cellcentric', the technology is still in an early phase of development and although there are many possibilities and benefits, there are also challenges ahead.
One of the big challenges is large-scale supply of green hydrogen, simply explained as the hydrogen produced by using renewable energy sources, such as wind, water and sun.
---
RELATED ARTICLE: eActros receives truck innovation award.
---
Another is the fact that refuelling infrastructure for heavy vehicles is yet to be developed.
"We expect the supply of green hydrogen to increase significantly during the next couple of years, since many industries will depend on it to reduce CO2," says Alm.
"However, we cannot wait to decarbonise transport, we are already running late.
"So, my clear message to all transport companies is to start the journey today with battery electric, biogas and the other options available. The fuel cell trucks will then be an important complement for longer and heavier transports in a few years from now," he concludes.
Still, as insightful as the 2022 IAA show will be as a showcase of advanced new power systems, it is also sure to be a revealing platform for upcoming developments in diesel-powered hardware, with perhaps none more notable or indeed exciting for the Australian market than Paccar's DAF Trucks and its new generation XG+ flagship model.
DAF intrigue
The second half of September might be a difficult time to find a few of Paccar Australia's top product people toiling away at company headquarters in Bayswater, Victoria.
In fact, a handful of the company's most senior engineers and product executives are more likely to be found wandering around the IAA show in Hanover, probably not too far from the stand of corporate colleague, DAF Trucks.
Likewise, it's a fair bet that at least one senior Cummins executive from Australia might be also seen tramping around Hanover's vast exhibitor halls.
What takes them to Hanover is a very special project combining the formidable resources of DAF Trucks, Paccar Australia and its chief engine supplier, Cummins, working collectively to develop a unique cab-over variant specifically for the Australian and New Zealand markets.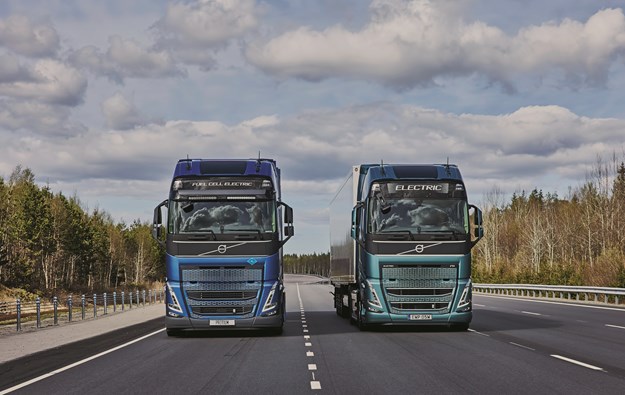 Volvo is well advanced with battery-electric and fuel cell electric technologies for longhaul trucks.
Daimler and Volvo have joined forces for fuel cell manufacturing
None of this, however, should come as an Earth-shattering shock. We've reported numerous times on the increasing likelihood of a premium DAF model being tailored specifically for Australia's heavy-duty requirements, powered exclusively by an all-new, relatively lightweight 15-litre Cummins engine with up to 660hp (492kW) and 2,300lb-ft (3,118Nm) of torque.
For instance, in the 'Evolution of an Icon' story in our previous issue, detailing the launch of Kenworth's new K220 cab-over, we referred to "the growing inference of a boldly unique cab-over being developed in Europe specifically for our part of the world".
Even so, to date we've had no official confirmation of the new model's introduction to the Australian market, probably in 2024. But nor have we had any denials or refutations.
Similarly, questions emailed recently to DAF Trucks senior product executives about aspects of the Australian model's development had gone unanswered when this article was being written.
It is our belief, however, that DAF's new XG+ model is the platform for what will be a major milestone in Paccar Australia's product history by formally and powerfully establishing DAF as the keystone in the company's heavy-duty cab-over future.
Yet, despite the lack of comment on the Australian version's development, the XG+ has been at least well received by northern hemisphere commentators, citing a cab that is 330mm longer and 200mm taller than its XF counterpart.
What's more, the model's late release is said to have allowed DAF to create the biggest cab on the market and, in the process, take full advantage of broadened EU regulations on mass and dimensions.
Reports further suggest high levels of storage space, a clever fold-away passenger seat to significantly enhance interior space, and improved levels of fit and finish which were already of a high standard.
As photos show, there's also the availability of digital mirrors while under the cab, the top European rating is 530hp (395kW)from Paccar's MX-13 engine coupled to a ZF Traxon 12-speed automated transmission.
Of course, with a big bore 660hp Cummins underneath, an Australian derivative will require vastly greater cooling capacity.
As for the transmission, there's no indication if an Australian version will continue with the ZF Traxon or Eaton's new heavy-duty Endurant 18-speed automated shifter.
It's unknown at this time if a Cummins-powered XG+ with up to 660hp will be also launched in Europe. Whether it is or isn't, there's nothing particularly new about a Cummins-powered DAF.
In fact, from 1994 to around mid-1999, Cummins N14 engines were used to push DAF to higher horsepower heights.
In the northern spring of 1994, for example, DAF's Super Space Cab 95.500 model used a Cummins N14 at 500hp (373kW) for some markets. Then in 1997, the 95XF model offered a Cummins N14 at 530hp until early 1999 when the N14 was dropped from the range with the introduction of the Euro 3 emissions standard.
As for any other expectations on what the future might hold for DAF in Australia, right now we simply expect to be amazed.
For more on Jthe future of trucking, grab a copy of OwnerDriver magazine's September edition.
Subscribe to our newsletter
Sign up to receive the Owner Driver e-newsletter, digital magazine and other offers we choose to share with you straight to your inbox
You can also follow our updates by liking us on Facebook.

Trucks For Hire | Forklifts For Hire | Cranes For Hire | Generators For Hire | Transportable Buildings For Hire