China's Refire Showcases Hydrogen Fuel Cell Products at Hanover IAA Expo as It Eyes European Market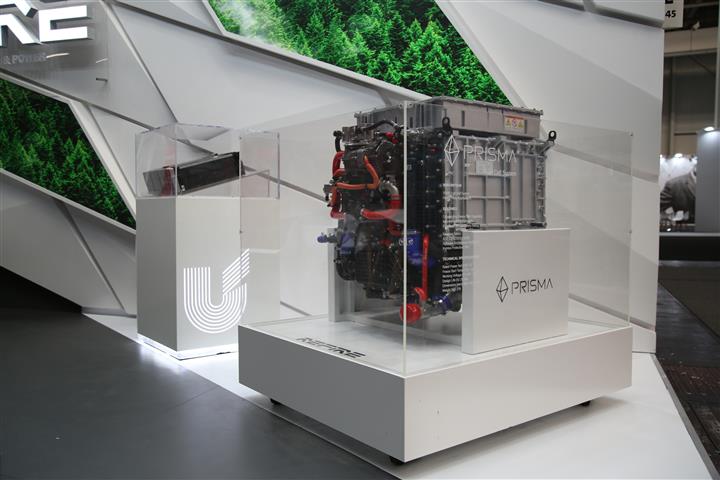 (Yicai Global) Sept.
21 -- Refire Group has put its latest hydrogen fuel cell systems on display at a global exhibition for commercial vehicles being held in Hanover as the Chinese hydrogen fuel cell maker, which has already partnered with several European companies, aims to expand its footprint in Europe. A hydrogen-powered van developed by Refire and German auto parts supplier Schaeffler Group debuted at the IAA Transportation event which runs until Sept.
25. Refire developed the fuel cell system, which weighs 4.5 tons, while Herzogenaurach-based Schaeffler provided the electric axle, fuel cell stack, control system, and energy management system, Audrey Ma, vice president of Refire told Yicai Global.
A high-performance fuel cell system of Refire, named PRISMA XII+, that has already been certified by German testing giant TUV Rheinland, was also unveiled at the IAA show. The PRISMA XII+ fuel cell system is already being used to power a zero-emissions long-haul truck that Refire and another German partner Clean Logistics launched in June. Refire will continue to supply the PRISMA XII+ fuel cell to its European partners to help them produce more fuel cell vehicles, Ma said.
Refire will leverage its real-road experience in China to help foreign partners boost their growth as the Shanghai-based company prepares to go global. The market for hydrogen fuel cells is large in China, where more than 10,000 vehicles already use the fuel cell system, but the European market is much smaller for now, Ma said. However, the potential for growth in Europe is huge, she added.
Hydrogen is an important part of the European Union's strategy for green energy transformation. Last year, for instance, Germany introduced a new-energy subsidy scheme that includes hydrogen fuel cells and hydrogen energy-relevant infrastructure. Founded in 2015, Refire's hydrogen fuel cell technology and products can be found in more than 3,000 vehicles, with a cumulative mileage of over 100 million kilometers, equal to a reduction in greenhouse gas emissions of 70,000 tons, the Shanghai-based firm said.
Its hydrogen-energy products are available in more than 20 cities around the world. The IAA Transportation exhibition, which is normally held every two years, was cancelled in 2020 due to the Covid-19 pandemic. This year, some 1,400 exhibitors are attending, including around 60 Chinese companies.
Editor: Kim Taylor